14/01/2021
ASSISTED HEATERS – COMPACT AND ANTICONDENSATION
Get rid of moisture and freezing with the new compact assisted heaters.
The assisted heaters are used for climate control to prevent condensation or freezing in outdoor environments or areas subject to large temperature changes.
They are ideal in installations where it is necessary to maintain a constant and optimal temperature to ensure the correct functioning of all components or to avoid food degradation.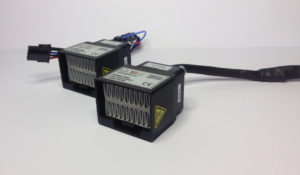 Compared to simple PTCs, ventilated heaters guarantee better circulation of hot air and allow the temperature to be kept constant and under control throughout the work environment, not limiting it to the simple contact surface. These features make the range of heaters suitable for a wide range of applications:
Environments that require constant temperature and humidity control (water or coffee tanks, 3D printers, labellers)
Electrical cabins and control cabinets
IT, Telecom industry
Viewing / surveillance cameras Meteorological stations.
Technical features
The assisted heaters are made with PTC technology which allows to keep the dimensions extremely small.
The external coating is made with UL94: V0 material, which makes it safer by reducing the external temperature of the heating element, which can thus be positioned at closer distances from very hot surfaces, avoiding overheating.
The heaters are available in 2 sizes with heating capacities from 10W to 150W 

capacities from 10W to 400W

The range of heaters is available in various configurations: 

with cable, terminal block, DIN rail and ventilated.
The design and production are made entirely by Gruppo Comestero Sistemi, allowing a high degree of customization.
Contact us for more information or go to the catalog.
Contattaci per maggiori informazioni o vai al catalogo

Previous news
Next News