16/07/2020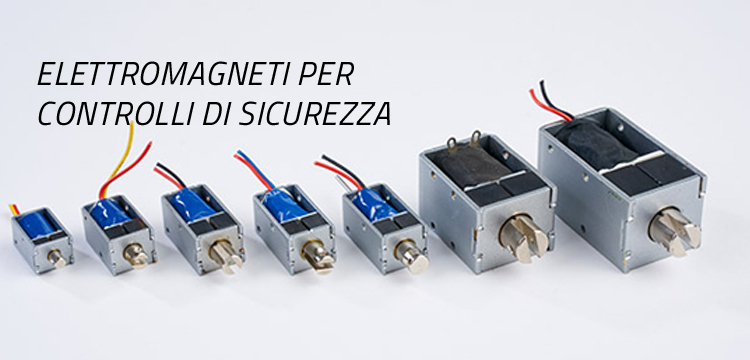 TUBULAR AND MAGNETIC LATCHING SOLENOID FOR SAFETY CHECKS
Tubular and magnetic latching solenoids for locking systems that require high security.
Locking systems thanks to solenoid actions are the most reliable solution where high security is request, such as in safaty lockers or access control.
Solenoids produced by NSF Control, a company of Gruppo Comestero Sistemi, are available in various dimensions and configuration for different application. For this kind of application the models usually used are Tubular and Magnetic latching solenoids.
Tubular solenoids
The tubular solenoids are versatile, quiet in operation, have an enclosed design and maintenance free because their life expectancy is high reaching 25 million actuation.
The single hole fixing makes them easy to install where space is restricted.
Tubulars are excellent locking solenoids, whether for doors, security or industrial machinery.
Magnetic latching solenoids
Magnetic latching solenoids are typically open frame solenoids which have permanent magnets incorporated
These solenoids have a strong hold position with no power, making them ideal for battery operation or continuous duty applications.
Our magnetic latching solenoids are available from small to large sizes offering variable voltage capabilities.
Features and application
MAGNETIC LATCHING SOLENOIDS

Features:
Low Power
Economical
Pulse Operation


Options Available:
Push or Pull Versions
Plunger End Type
Customised Terminations
Return Spring




Typical Applications:
Battery operated locks
Vending equipment
Medical supply cabinets
Electronic locks
Lockers



Features:
Long life (tested to 25 million actuations)
Standard design or bespoke product
Force rating up to 80N


Options Available:
Push or Pull solenoid operation
Range of Strokes up to 25mm
Windings to suit any DC voltage and duty cycle
Customisable - Plunger, Mounting, Spring and Lead Length
Range of Sizes


Typical Applications:
Parcel Collection Points
Process Control Equipment
Locker & Vending Security
High Security Locks
Electronic Access Control
Diagnostic & Analysis Equipment
Instrumentation


Previous news
Next News