11/01/2017
EMC/RFI FILTER 3PH 3PH+N UL APPROVED
Comestero Sistemi partner of High & Low Corporation presents in exclusive for the European market the new series of EMC/EMI filters 3PH and 3PH + N to be combined with the new generation of inverter for compliance with the electromagnetic compatibility standards of each nations.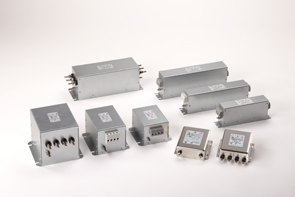 In modern generation industrial electrical systems, the presence of RCDs, frequency converters or inverters are requirements in many countries required by regulations to guarantee efficient protection of applications.
The insertion of these components within the circuits, however, increases the possibility of current leakage, leading to the need to use an interference filter to ensure compliance with EMC regulations.
The compact three-phase filters of the S5 series have UL and ENEC approval and are approved for nominal voltages up to 520V AC, making them suitable for use in high-power systems such as industrial machines.
The standard model can be with screw connection (3PH) or terminal block (3PH + N) but it is also available in other variants according to customer requirements (wires, screws, terminal blocks).
Comestero Sistemi is also able to carry out compatibility tests on its premises or on site via a mobile test laboratory, modifying the electrical circuit in the field and developing an HOC filter for every need.
3PH – Series S5-1AH4
3PH + N – Series S5-1AH5
– Nominal current up to 160A

– Max Voltage 520Vac

– Metallic case type "book"

– Connection type: Terminal block, Screw or Flexible wire

– Nominal current up to 180A

– Max Voltage 520Vac

– Metallic case type "footprint"

– Connection type: Terminal block, Screw or Flexible wire
Scarica la brochure

Previous news
Next News